October 2021
In this Issue:
Pastor Appreciation and Laity Sunday
Around the District
Job Openings
Camp Lake Stephens
ICC Wesley
MS AC 2022 Update

---
Belated Congratulations to Rev. Corey Collins (Fairview/Algoma/Palestine), his wife Hannah, and their sons Liam and Finley! The welcomed a precious baby girl, Lucy, on December 16,2020!
Congratulations to Rev. Jeremy Funderburk (Verona-Palmetto), his wife, Meg and their 3 sons Warren, Walker & Wynn! They welcomed a precious baby boy, William Louis, on August 31, 2021.

Congratulations to Rev. Sims Meredith (Pleasant Valley-Guntown), his wife, Amy, and daughter Camry! They welcomed a precious baby girl, Maggie James, on September 1, 2021.

We welcome them and look forward to seeing God at work in all their lives!
---
October is Pastor Appreciation Month and Sunday, October 17th
has been designated as Laity Sunday when Lay People of the United Methodist Church will lead worship services across our denomination.
October is Pastor Appreciation Month.
There are many ways you can express your thankfulness for your pastor. The following is a link to an article on some of the possible ways you can say thank you to your pastor. https://www.resourceumc.org/en/content/saying-i-appreciate-you-to-pastors

Laity Sunday is traditionally the 3rd Sunday in October. We encourage your congregation to celebrate this day, even if it needs to be on another Sunday. The church has individuals who are gifted by God that would be a great witness to all. The most basic way to have Laity Sunday is to just use your regular order of worship and find a lay person to do the parts the pastor leads. You can also be creative; maybe you have children who would dance or sing, an older gentleman who tells great stories. The opportunity to use this day to build relationships and excitement in the church is endless.

The theme for the quadrennium is "Rise Up", then with subsequent points each year. 2021-Revive; 2022- Reveal; 2023- Remain; 2024- Retain. The suggested scripture is 2 Timothy 1:3-7.
You can even find resources at UMC.org and Discipleship Ministries. Here is the link to the Discipleship Ministries web site: https://www.umcdiscipleship.org/worship-planning/living-faith-in-the-everyday/nineteenth-sunday-after-pentecost-year-c-planning-notes
Let's have 100% participation this year as we highlight the call of laity.
---
Around the District

On September 23 the FB Shout out went to St. Andrew's UMC in Amory. Members of the church recently collected funds and purchased sandwich and cookie trays from Subway and a small group from the church delivered them to the Monroe County Sheriff and Amory Police Departments as a show of support for the difficult days our law enforcement officers are facing. The church wanted the men and women in uniform who protect us every day to know they love them, are praying for them, and hope they enjoyed the tangible showing of appreciation.
On September 30, the FB shout out went to Amory First! A group from their church recently fed the students at the ICC Wesley Foundation! If your church would like to feed the students, please email Zac Cox ICC Wesley Director at iccwesley@gmail.com. Photo creds: Amory 1st FB page

The FB shout out on September 30 went to the youth and KREW kids from Thaxton UMC! They had a great turn out at the recent See you at the Pole event! More photos can be seen on the Thaxton UMC Facebook page. Photo cred: Thaxton UMC FB page


The FB shout out on October 5 went to Mantachie UMC! Their KFC (Kids for Christ) began a few weeks ago and they are already learning so much AND having fun! Their first lessons included the stories of David & Goliath and the Parable of the Lost Sheep! Deuteronomy 6:7 "You shall teach them diligently to your children, and shall talk of them when you sit in your house, and when you walk by the way, and when you lie down, and when you rise." Photo cred: Mantachie United Methodist Church FB
---
Job Openings

Saltillo First United Methodist Church is searching for a Children's Minister who is a faithful Christian with a passion and vision for ministry with children and their families giving them the opportunity to know God and His Word, developing each in discipleship and use of their ministry gifts, involving friendship and fellowship, while serving in the church and the community.
Also, Saltillo FUMC is searching for a Minister of Music. This person should have a close, personal relationship with our Lord and Savior Jesus Christ. The Minister of Music coordinates, rehearses, and directs all choirs of the church as appropriate. Will also assist the pastor(s) in planning the congregational services of the church. The Minister of Music should be skilled in choral directing and in leading the congregation in worship.
For more information or to apply, please follow this link (saltillofumc.org/opportunities). You may also contact the church at info@saltillofumc.org or Rev. John Foster at (662)401-3863.
******************************************************************************
St Andrews United Methodist Church (Amory) is searching for a Youth Minister. Anyone interested in can contact Rev. Jim McClurkan, pastor, at jamesmcclurkan@yahoo.com.
*******************************************************************************
Pontotoc FUMC
is searching for a full-time
church musician
. Organ and piano proficiency is preferred. For more information, please email the church at
pontotocfumc@onecallinc.com
******************************
******************************
****************
Camp Lake Stephens
is looking for its next
Executive Director
! We are seeking a follower of Jesus with a commitment to faith formation and a passion for leading our community of campers, families, staff, and supporters. A full job description is available at
camplakestephens.com/jobs
. To apply send a resume and cover letter to Rev. Smith Lilley at
smith@fumctupelo.com
---
Camp Lake Stephens
Mark your calendars and spread the word! Camp Lakes Stephens has announced Fall 2021 and Spring 2022 Retreat dates! For more information on these retreats, please visit
https://www.camplakestephens.com/retreats
From Jeff Wilson, Assistant Director
Camp Lake Stephens

Joey Harvey, a former counselor, passed away this past spring. Joey served on summer staff in the mid-2000's. His family chose to have memorial gifts given to Camp Lake Stephens in his memory. From the outpouring of love for Joey, we have been blessed to make major upgrades to our programs.

$12,000 was donated in Joey's Memory. We have replaced the rocking chairs on the Lodge front porch with recycled plastic rocking chairs, added two - six swing circles for small groups, installed a nine-hole disc golf course, and replaced our entire kayak fleet with new kayaks!

We are forever grateful for the impact Joey made as a summer staff member and the impact his memory will continue to make on the ministry for decades to come.

Mark your calendars for these great events at Camp Lake Stephens!
Retreats
Junior High
November 12 - 14, $140, Grades 7 - 8
Senior High
November 19 - 21, $140, Grades 9 - 12
Overflow
Jan 15 - 17, $150, Grades 9 - 12
Christmas @ Camp
December 11th, $20 per family, All Ages
---
ICC Wesley

If you know of students that attend ICC- Tupelo campus, please let them know that ICC Wesley meets there also!

Tupelo campus:
Introducing Relevant!
This will be our time of worship/ Bible study on the Tupelo campus.
We will meet at 5:30pm on Thursdays in room 148 at the ICC / Ole Miss building!
ICC-Fulton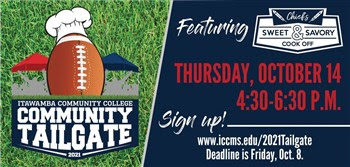 ---
The Pandemic has shifted many things in our society, including The Church. But, God's Church has never and will never close!

Jesus promised that the gates of hell would not prevail against it and neither will a pandemic. That's why we're taking a moment to celebrate the Universal Church in general and the Black Church specifically.

This November, we're gathering online for The Future Church Convocation: Energizing Mission through the Lens of the Black Church.

The Convocation is a mission-oriented online event for teams that is designed to propel the Church into the future. We will not only celebrate the Black Church, but also its place in history and highlight its influence in the Universal Church.

Everyone can learn from the history, legacy, and prophetic voice of the Black Church and this convocation helps us to do just that.

Gather your team and be immersed in topics that will help you act as the prophetic voice God has called you to be as you look toward the future.

This event is uniquely designed to help you not only to hear vital messages, but also to dream together, and strategize about the future of your congregation or organization.

Topics Include:
"Remissioning" - A new strategy for revitalizing congregations and organization
How our digital age is shaping the Church
Fresh Expressions of Church that engage with people who might never come to your church on Sunday.
Because we recognize the difficulties of this past season, we will also include a session dedicated to healing.

You will learn from dynamic Church leaders such as:
Bishop James Edward Swanson, Sr., bishop of the Mississippi Conference of the United Methodist Church
Bishop Kenneth Ulmer of Faithful Central Bible Church
Rev. Dr. Michael Waters, Lead Pastor of the Abundant Life African Methodist Episcopal Church
Rev. Dr. Nicole Martin VP of Church Engagement at American Bible Society
And many more.

These passionate leaders will take us on a journey to wholeness and propel us into the future.

Register now for https://wordsmith.lpages.co/future-church-convocation/?mc_cid=f7b8dc399e&mc_eid=bfbd7f6a35&goal=0_eb9d1fd14e-f7b8dc399e-1206062101&mc_cid=f7b8dc399e&mc_eid=bfbd7f6a35
---

As the Covid pandemic continues, we know that churches are continually searching for guidance. The MS Conference website has all the Pandemic Task Force updates listed by date. Please visit https://www.mississippi-umc.org/care&coronavirus to view the updates and other communications regarding safe practices.
---
From the Conference website – Delegation Hub:

The postponed 2020 General Conference is now scheduled for August 29 – September 6, 2022, in Minneapolis, Minnesota. During the General Conference, delegates will consider proposed major changes to church structure and organization, as well as changes to church law, policies and denominational statements. In addition, delegates will vote on the missional priorities and the general church budget.

Your delegation is committed to faithfully fulfilling their responsibility of being well informed and well prepared to vote on the wide variety of issues which will affect the future of our denomination. On this webpage, you will find links that will provide you with information to stay informed about General Conference and Jurisdictional Conference. The delegation will place any new and updated General Conference and the Southeastern Jurisdictional Conference (SEJ) information on this dedicated area of the conference website. Your delegation wants you to be well informed of the numerous issues facing The United Methodist Church. Therefore, it is our plan to provide vital up-to-date information about the upcoming General Conference and Southeastern Jurisdictional Conference through various conference communications mediums like our website, eblasts, Circuit Rider and social media.

Please remember your delegation in prayer as we continue the work you have delegated to us. Thank you!

Please visit the Delegation Hub link on the Conference website by clicking this link: https://www.mississippi-umc.org/delegationhub
---
Need to strengthen or start a ministry for which you have a vision but limited resources? Consider applying for a mission grant for your church.

Apply now for the 2021 Connectional Ministries Mission Grants. These matching grants are available to United Methodist churches. Grants typically range from $250 to $2,500 per project. Extraordinary applications for up to $5,000 will be considered. The purpose of the grants is to help form spiritual leaders, develop new places for new people, renew existing congregations and/or engage in ministry with the poor.

Online applications will be accepted September 21 through October 31, 2021.
For more information, please visit: https://www.mississippi-umc.org/missiongrants
---
Churches! Get ready for the Little Light of Mine offering. The below options provide different information and formatting to help get the word out on various platforms
(i.e. option 1 in an e-newsletter, option 2 on the website, option 3 on social media).
Option 1:
Sign up to participate in our "Little Light of Mine" offering. This offering supports the daily operations of MCH. Without your church's support, MCH would not be able to care for the hundreds of children we serve each year. Here are five steps to make a difference:
Step 1: Choose a Sunday between October 17 and December 12 to collect your special offering.
Step 2: Let us know which date you're collecting your offering and sign up to receive your toolkit, graphics, and video:
bit.ly/llomsignup
.
Step 3: Using the resources we provide, promote the special offering in your church and prepare your congregation to give.
Step 4: Show the Little Light of Mine Special Offering video in your church's worship service. Pray for the children and staff of MCH. Collect a special offering for your children at Methodist Children's Homes.
Step 5: Your church sends in your donation and lives are changed by the resources you provided!
Contact Mandy Bufkin at
mbufkin@mchms.org
or 769.972.2027 if you have any questions.
Option 2:
Sign up to participate in our "Little Light of Mine" offering. This offering supports the daily operations of MCH. Without your church's support, MCH would not be able to care for the hundreds of children we serve each year. Last year, United Methodist Churches raised $60,000 to help the children of MCH! What a blessing y'all are!
As we celebrate 125 years, MCH invites churches from across the state to sign up to be a part of the special offering. We have set the goal of $75,000 for this year's offering and pray churches will stand in the gap for the foster children of Mississippi! Go to
bit.ly/llomsignup
to register for your church's Little Light of Mine materials.
Option 3:
From the Great Depression in 1929, to WWII and most recently the COVID-19 pandemic, heroic Methodists have championed together to ensure the Methodist Children's Homes will continue. However, our mission is not complete. 4,800 children remain in foster care in Mississippi and that's why we need your continued support. Go to
bit.ly/llomsignup
to register for your church's Little Light of Mine special offering materials.
---
HAVE YOU HEARD THE NEWS?!
The 2022 Session of the Mississippi Annual Conference will begin Wednesday, July 13 and conclude Friday, July 15, and will be held at the BancorpSouth Arena located at 375 E. Main Street in Tupelo. Saturday, July 16 will include a worship service and a recognition of Bishop James E. Swanson Sr. and the episcopal family, followed by a reception. Ordination will take place July 13 at 7:00 p.m. at the BancorpSouth Arena. The clergy session will be held online on June 9 from 9:00 a.m. to noon.

While the 2021 session was all virtual, this year we are planning an in-person conference so that the bishop, clergy and lay can come together to fellowship and conduct the business of the conference. These plans are subject to change as we continue to monitor the status of the coronavirus pandemic. More annual conference session information such as hotels, meals and the like will be forthcoming as details are finalized.

Be watching for emails, Facebook posts and website posts as details become more complete! We're looking forward to having everyone in the TUPELO DISTRICT!
---
Planning ahead?
All Saints Sunday is November 7, 2021.
Day light saving time
ends at 1:00 AM Sunday, November 7, 2021!
---
The Tupelo District office hours are from 9 am to 4 pm, Monday - Thursday & we are normally open during lunch. If you need to leave documents at the District Office after business hours, you are welcome to make use of the drop box affixed to the wall beside the entrance to the office. Please let the District Office know when you drop something off.

The next newsletter will publish the first week of November and we will continue to publish monthly newsletters on the first week of each month.

Did you know the Tupelo District posts on Facebook 3 times a week?! Look for Scriptures from the Lectionary on Sunday mornings at 8 am and for news & information from around the District and from the Conference on Tuesdays and Thursdays at noon.

Please send us your pictures or let us know about upcoming events so we can help spread the word!! Let us share around the district all the good things happening in our churches! Please send submissions for the District Newsletter, Facebook and the webpage to tupdist@gmail.com (Tupelo District office).

We are committed to keeping you informed of news and happenings around the District and around the Conference. We do this with our newsletter, with our Facebook page and with our website!

District Facebook page
https://www.tupelodistrictumc.org/